I never thought I was a big fan of Florida, but let me tell you, beach-wise, you can't beat it. The sand was nice, the ocean surf was mellow. The kids could play and I wasn't totally freaked out!
We had a wonderful trip...took LOTS of photos (surprise, surprise!).
We got into Miami about 5:30 or so, and unfortunately our luggage didn't make the plane change. So we had to sit in the airport for 3 hours until it got there...
The kids were very good, and entertained themselves...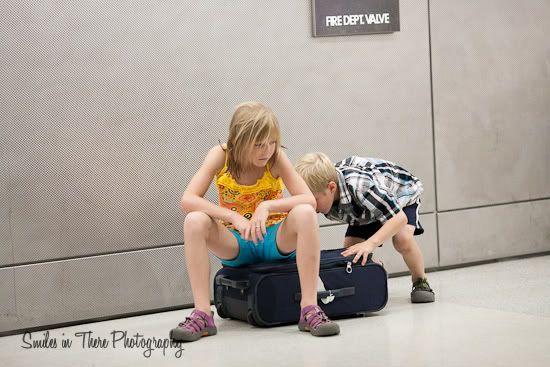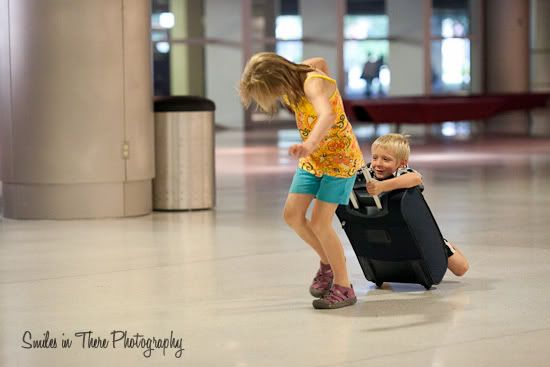 When our luggage finally got there, we got so excited that we left Bay's leapster sitting at the luggage claim section. After we realized we'd left it there, we headed back...when we got there, we found security standing over it. BayLea had to tell her what was in it, down to details, and was still a bit leery until I added that there was a ball of string in there too that Bay was forgetting about. Kind of silly, security standing over a little pink polka dotted lunchbag...on the other hand, at least we know all those threats that unattended luggage will be 'confiscated' look like they might be actually true!
We weren't sure if we would make our connection in Minny, so I hadn't booked us a hotel room. We called and found one near the beach for cheaper than the airport hotels were going to be. Our hotel was kind of a dive...Jery has spoiled me...I like NICE hotels!
But we did get to play on the beach the next day.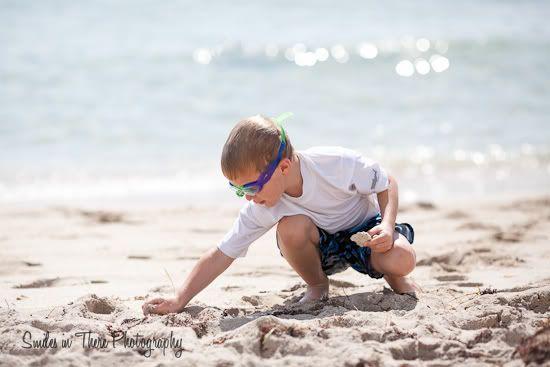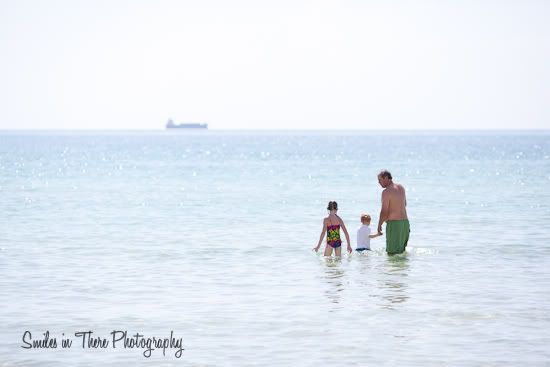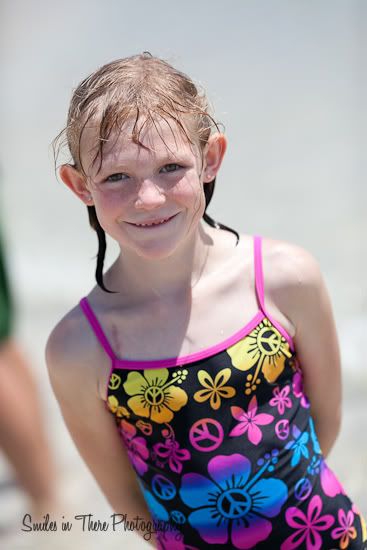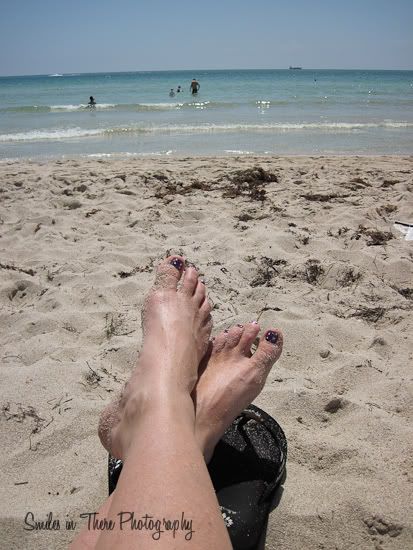 After playing for a while, we got in the car and drove down the Keys to Marathon. We stayed in Marathon on our honeymoon and thought it'd be fun to stay there again on our 20th with our 5 and 7 year old!!!
We stopped for a beverage on the way down. The kids played on the edge of the ocean, collecting little snails.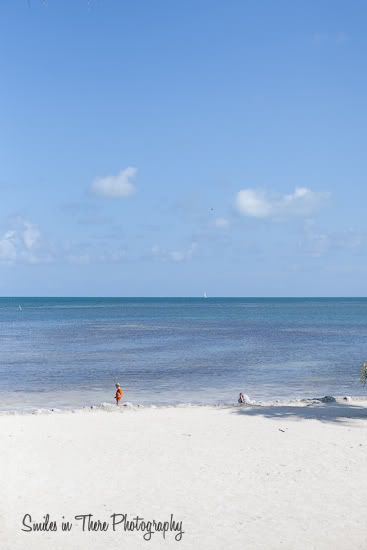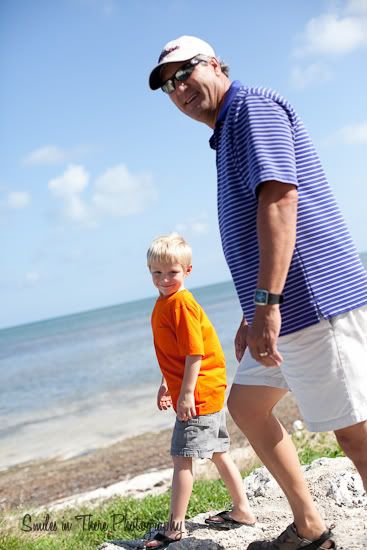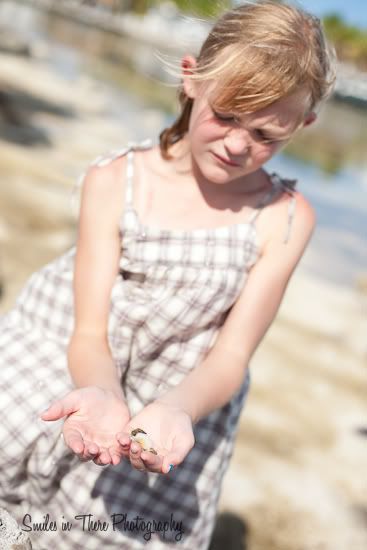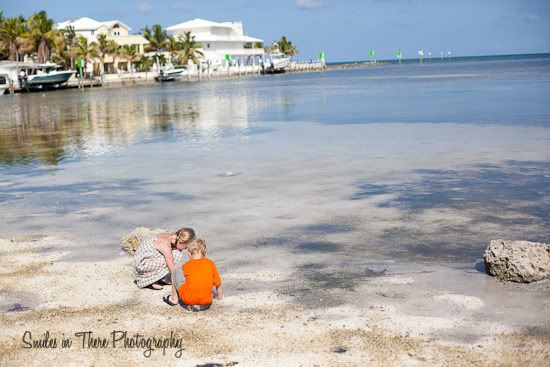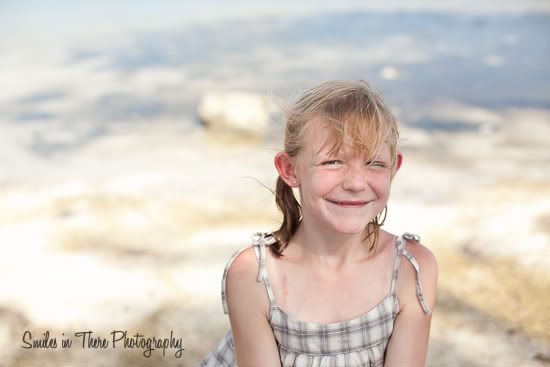 Our hotel on our honeymoon and this trip was called Banana Bay. It's a decent hotel (but again, Jery has spoiled me and now I like nicer hotels!!! tee hee)
The kids loved the pool.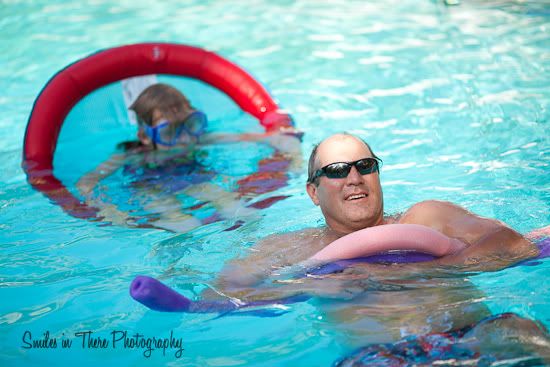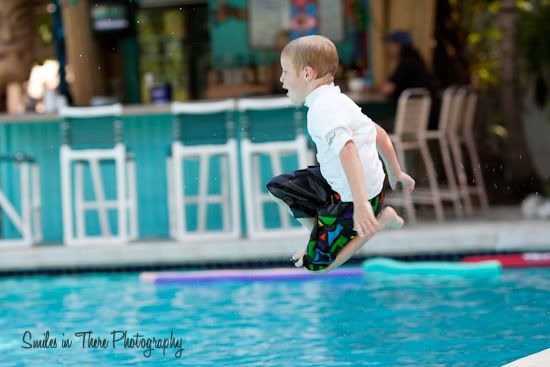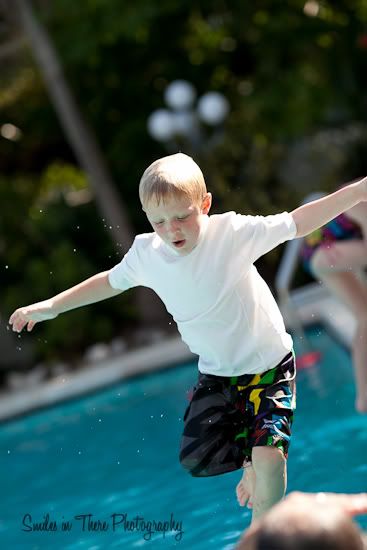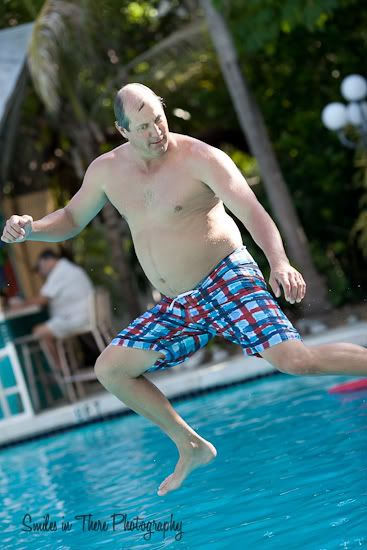 Leah calls this the "Uncle Jump" cuz he always jumps like this when he's feeling goofy.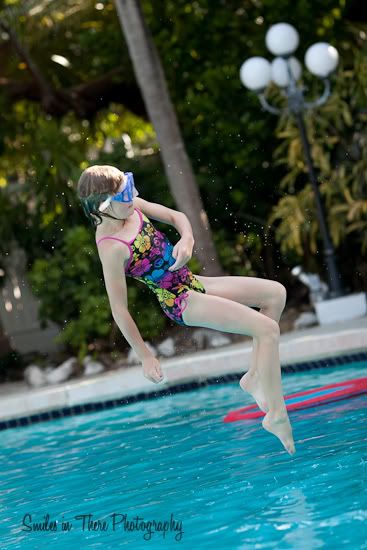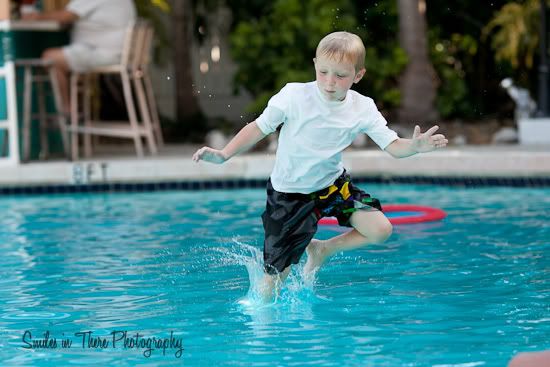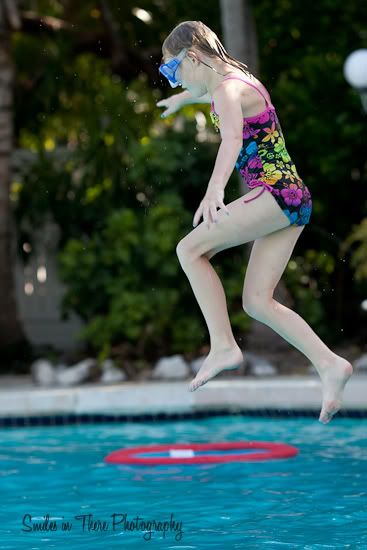 July 14th...our 20th anniversary! Here we are in all our glory! BayLea took this.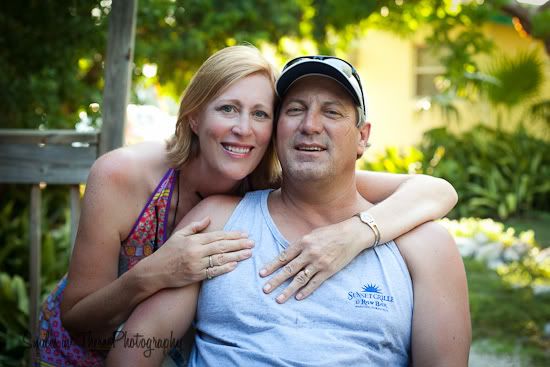 On our honeymoon we took a picture like this one below...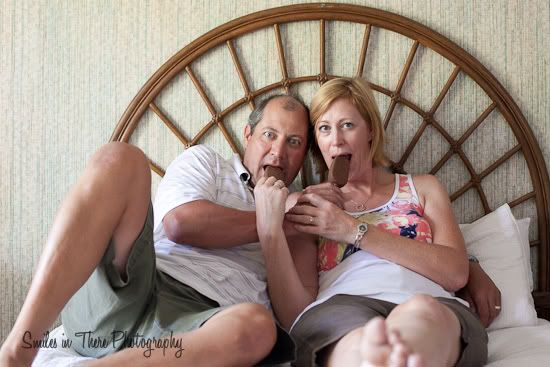 and so we had to do it again. The hotel decor hasn't changed a bit.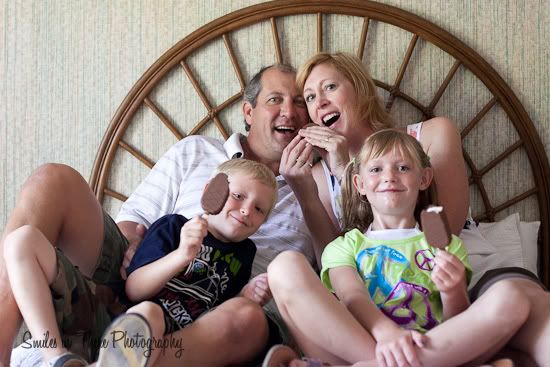 And we had to do one with the kids too!
We spent one day at the Dolphin Research Center and had a playdate/interaction with Karen, the blind sea lion.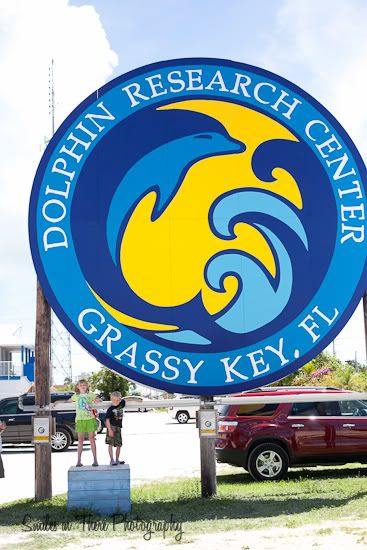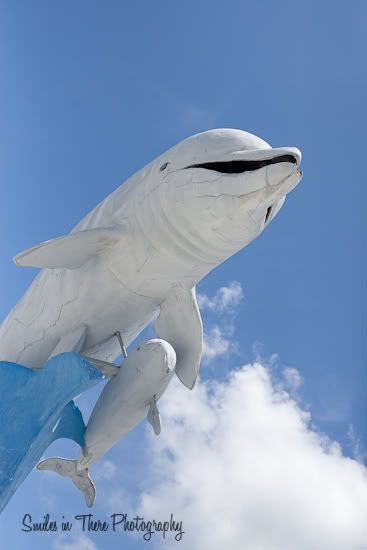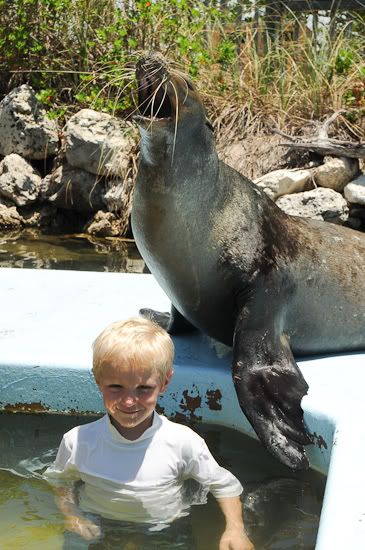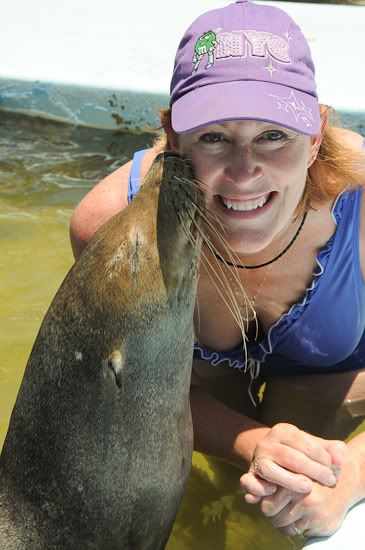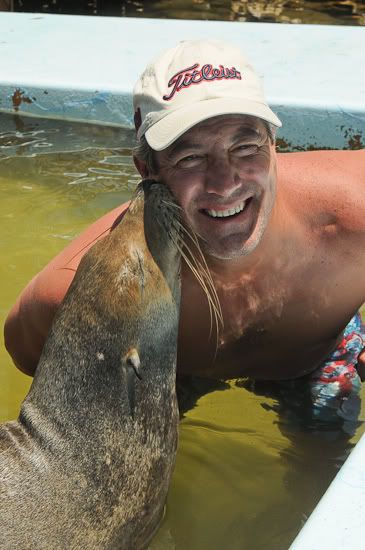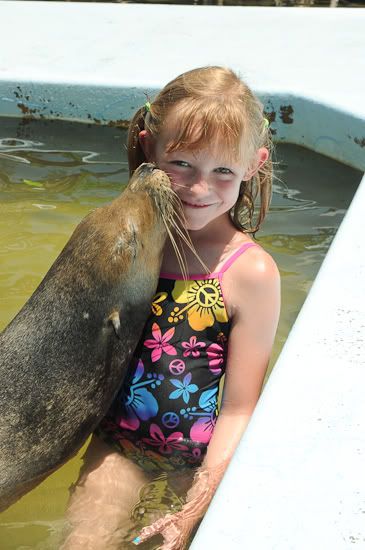 We also snorkeled in Marathon. The snorkeling in the Keys is the best we've ever done. The water is mellow enough that we're not pulled completely away from the boat, and reef is alive and teeming with fish.
As we rode on the boat, Breccan and BayLea sat up on the mesh net. Breccan kept saying "Now THIS is what I'm talking about!"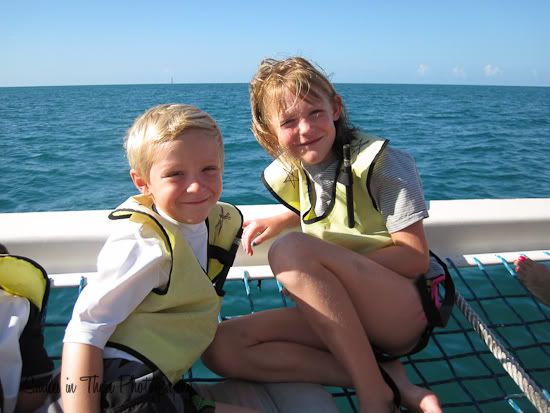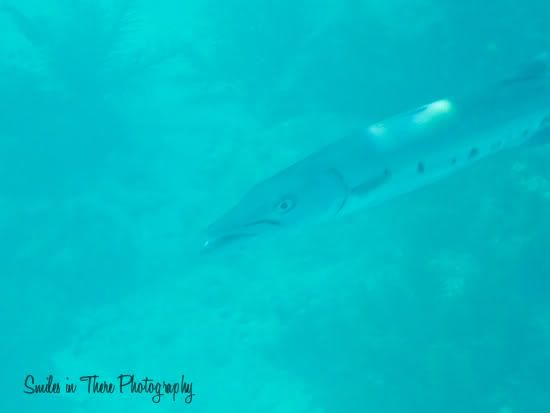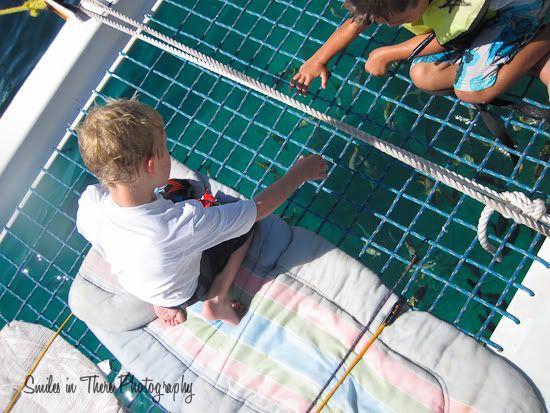 Our next resort was called Hawk's Cay. It was super nice. Loved it.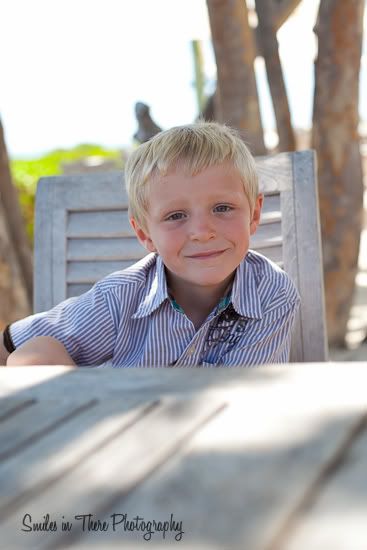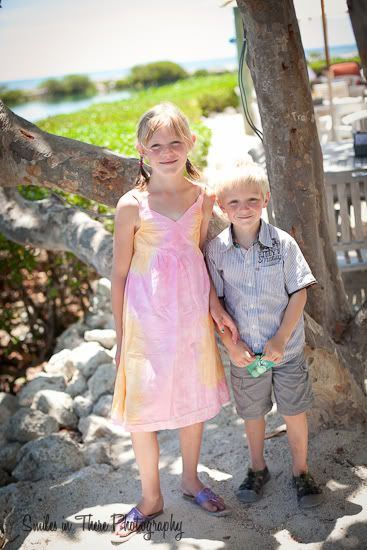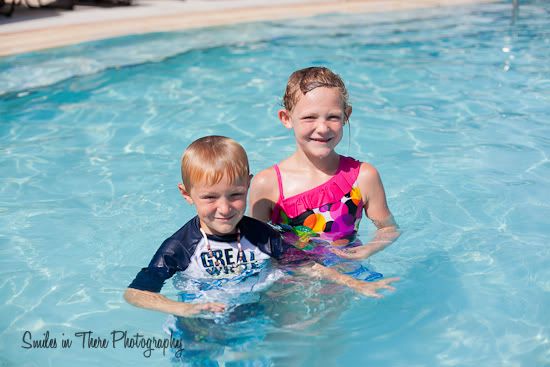 One evening we went to Key West to watch the sunset at the Southernmost Point. We thought it was beautiful. BayLea thought it was crazy to sit and watch yet another sunset.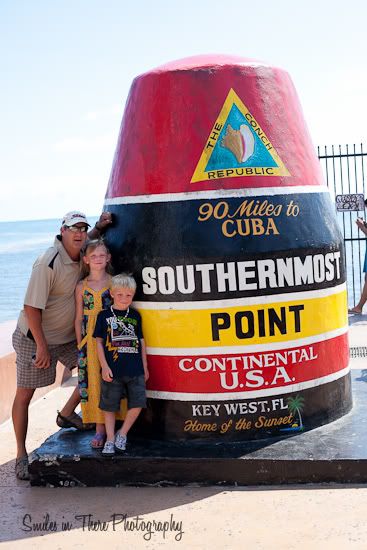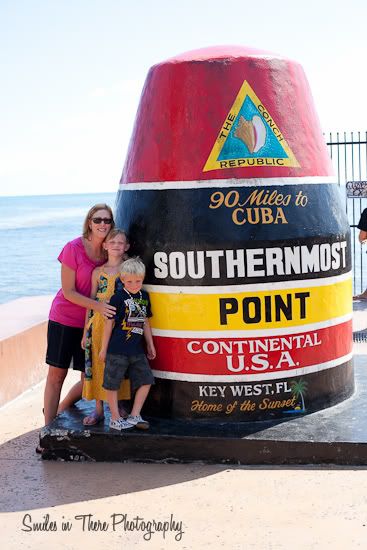 This was right after we got to Key West. We got out of the car and walked to this marker and we were instantly soaked with sweat!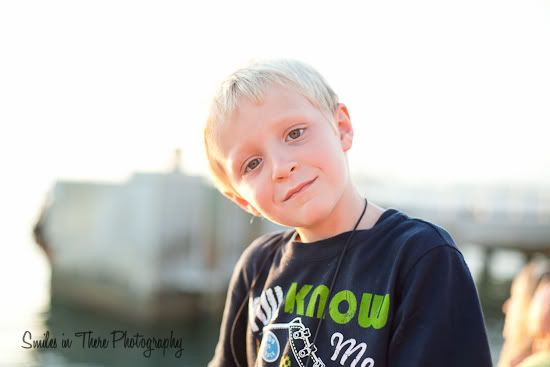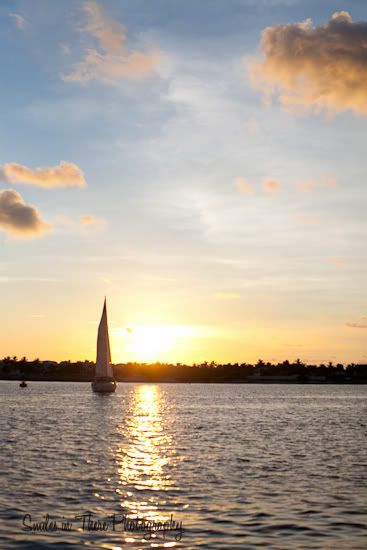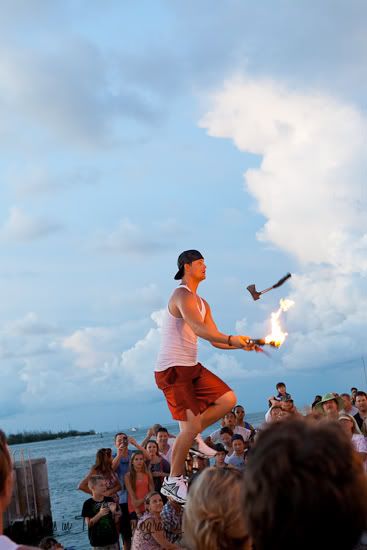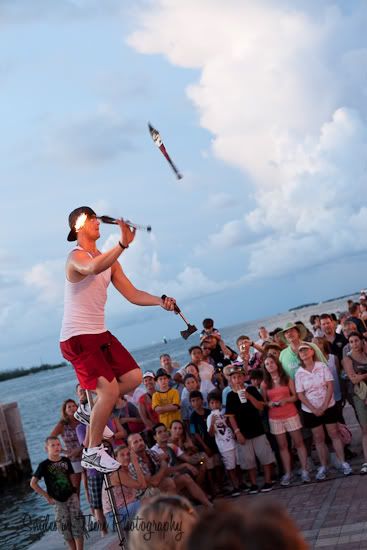 The kids did like the festivities happening at Mallory Square.
At Hawk's Cay they have their own Dolphin Discovery onsite. We did a Dockside Interaction with the kids. Breccan really liked it. Bay would have liked to swim with the dolphins, but we'll have to plan that at a later year, when Breccan is tall enough to do it too.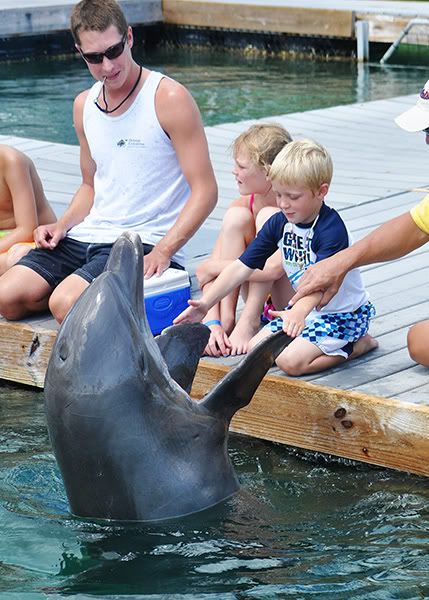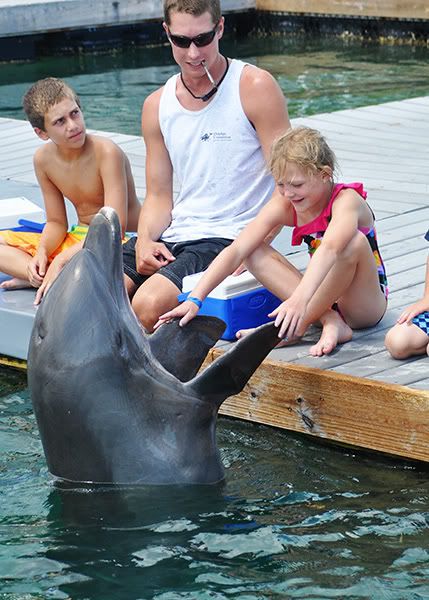 Here's the Dolphin Discovery tank in the sunset...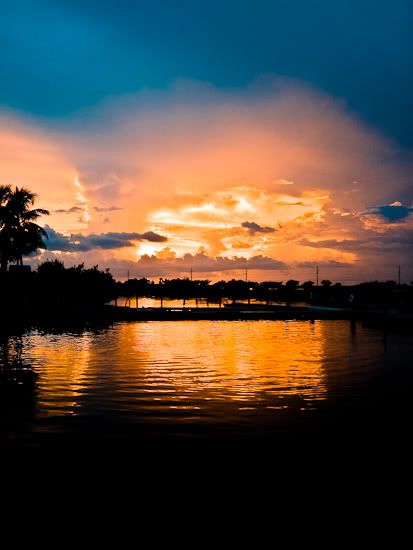 Hawk's Cay also had a lagoon with sea water but no surf...the kids liked snorkeling for sea shells and sea snails.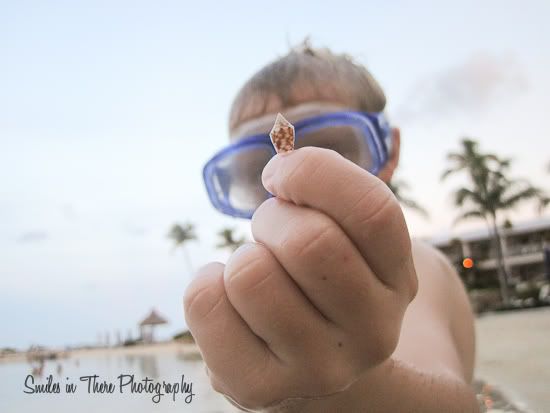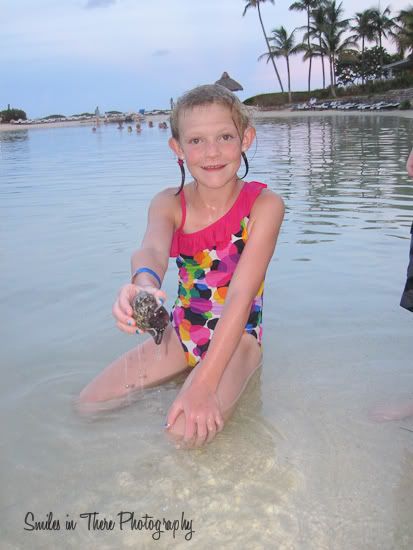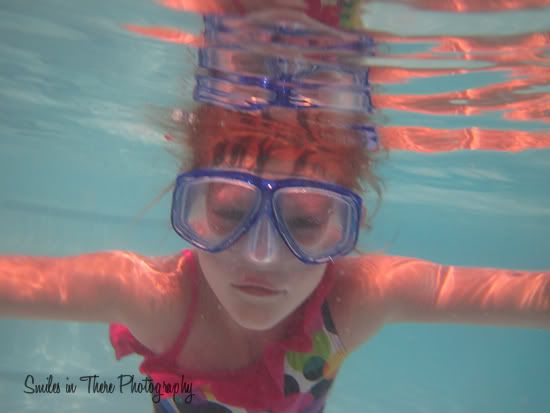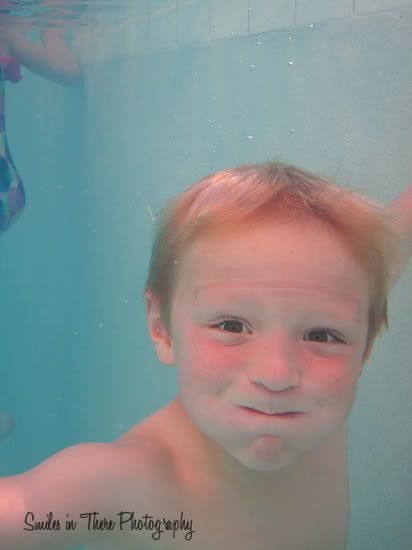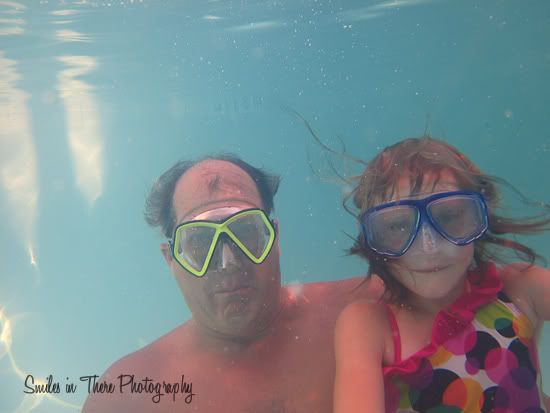 Look! It's me!
We rented jet skis. COULD NOT GO FAST ENOUGH FOR MY CHILDREN! "Go Faster!!!!"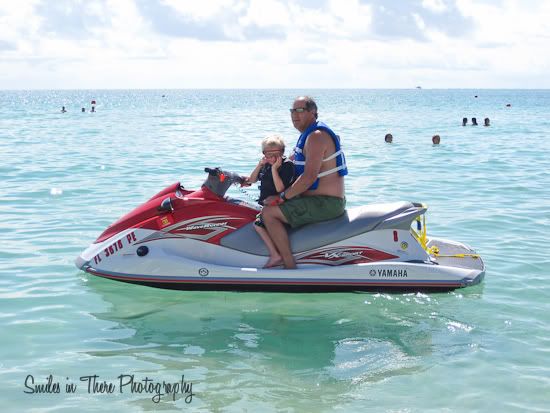 They suggested we not try and take pictures while we were out there riding, but the guy that worked for the jet ski company took my camera and came out and took pictures! I thought that was super nice!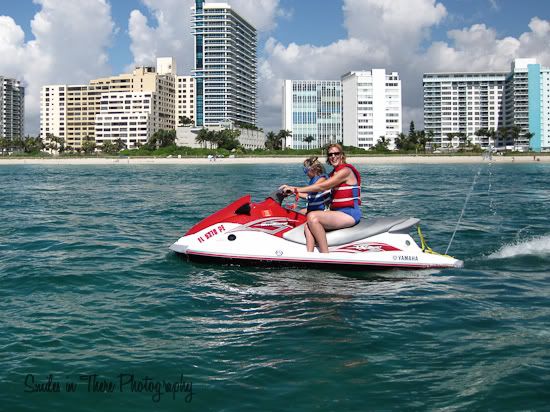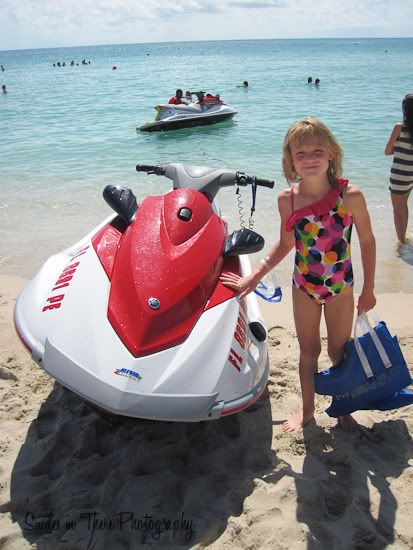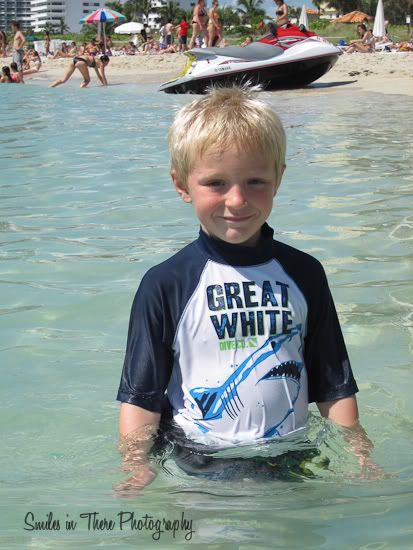 This kid is so danged handsome!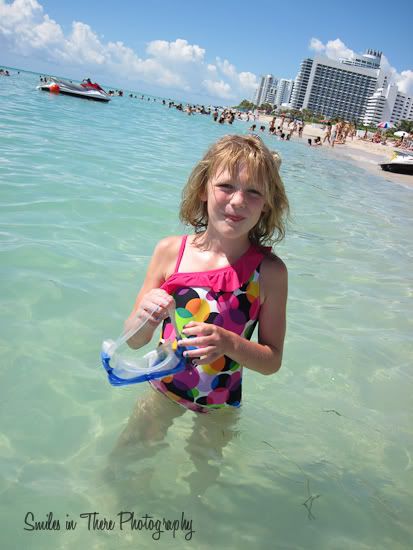 And she's so beautiful!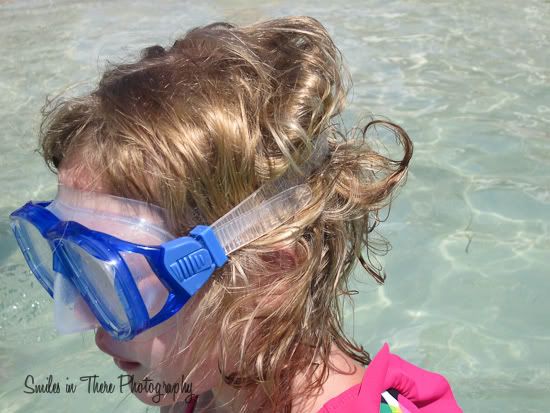 BayLea's hair after jet ski.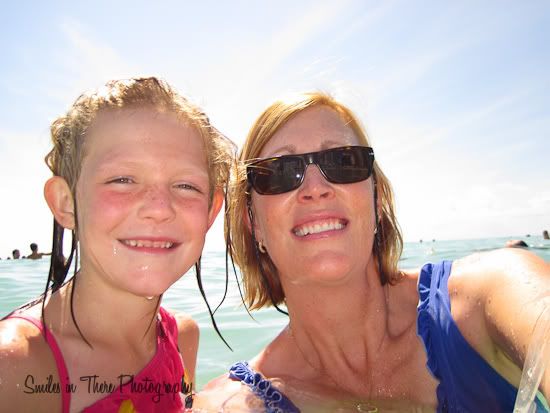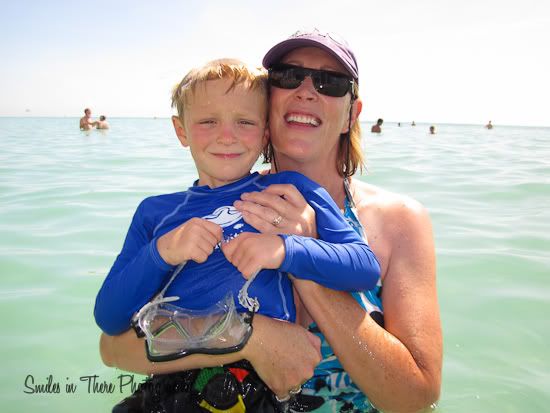 This is literally how I see my kids the whole time on vacation...face down in the water!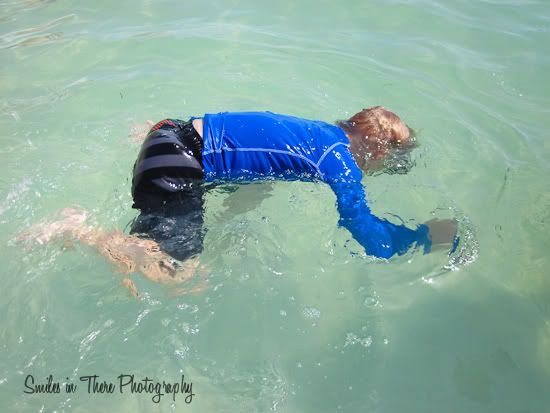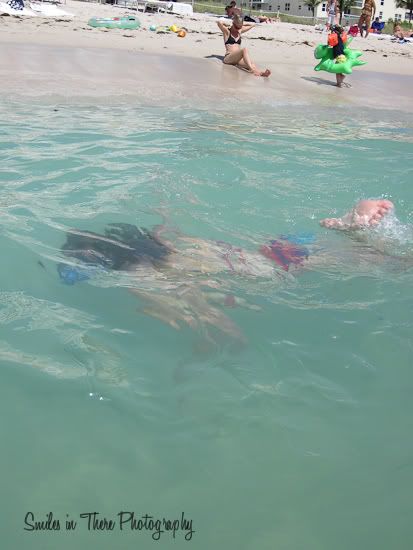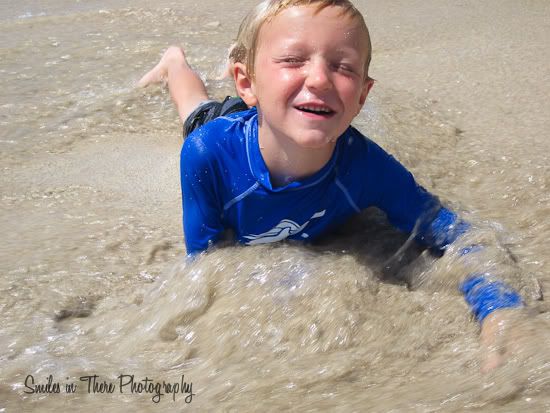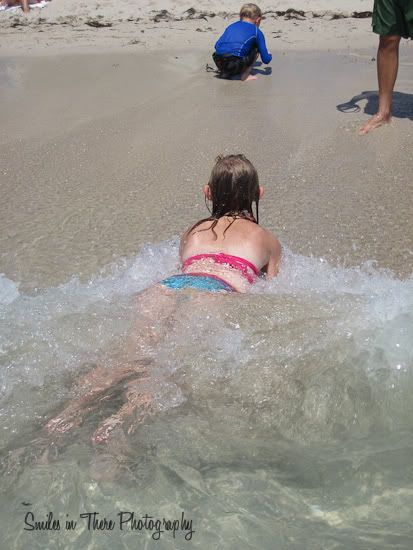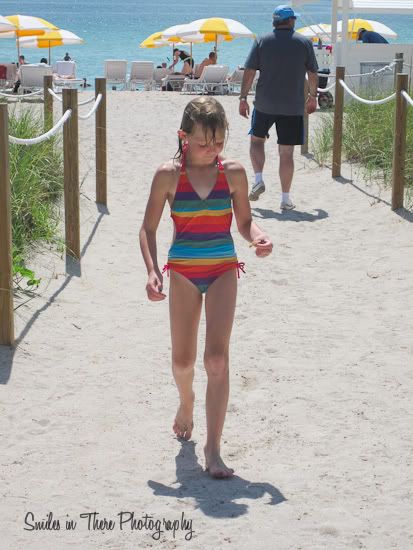 And my super duper FAVORITE picture....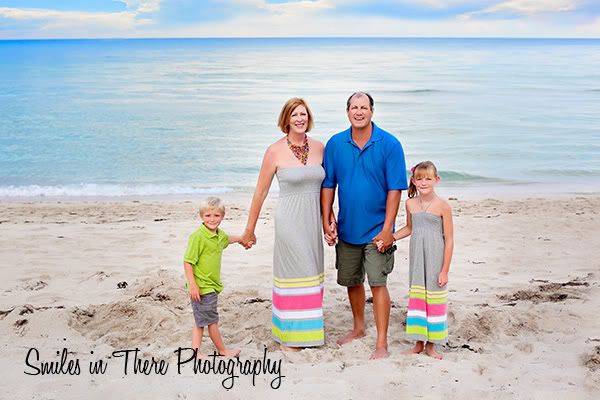 Such a fun trip!